Ad Builder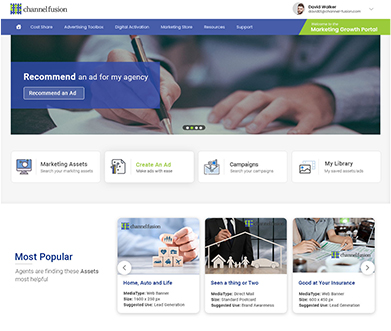 Channel partners can easily navigate to any part of the platform from the homepage.

A user-friendly experience allows channel partners to view, select and access templates they would like to customize.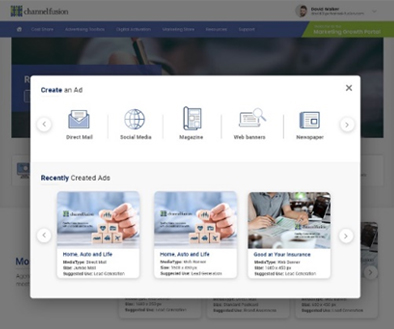 Customize any part of the template based on business rules programmed into the template. A wizard steps partners through the process of updating or selecting desired customizations.

A preview window shows the customizations as they are being made.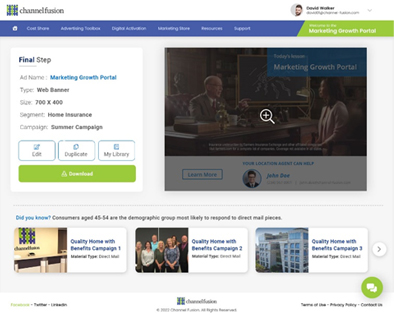 If a brand would like to require approval of a marketing asset before it is fulfilled, the platform can be configured so partners must submit customized templates as part of the workflow.
Protect and enforce established brand standards and guidelines by providing channel partners with templates that are already brand compliant
Provide value-added templates allowing channel partners to save time and resources when creating marketing materials
Offer templates for a variety of mediums, including digital banners, direct mail, radio, video, social, newspaper, and more
Provide channel partners with incentives to increase their marketing efforts by removing barriers to creating co-branded assets
Restrict visibility and access to templates based on tier-based hierarchy
Integrate print-on-demand features and functionality
Integrate with the Channel Fusion Co-op platform to facilitate and promote use of funds and pre-approval submissions
Easily create co-branded marketing materials that already follow brand and co-op program standards
Save money and resources by not having to pay an agency or someone else to create marketing materials
Build ads and other marketing materials in minutes rather than hours
Submit marketing materials directly into the pre-approval process for co-op fund reimbursement
Send marketing materials to print directly from the platform and utilize co-op funds for payment
Leverage Asset Library to populate imagery when creating ads and other marketing materials
Asset Library
Learn more about the Channel Fusion Through Channel Marketing offering
Delivering outcomes for these global brands